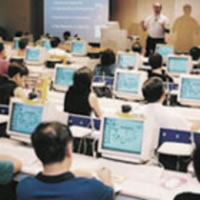 Training & Mentoring
Laboratory Systems Consulting provides training and mentoring support on a project basis, a one to one basis or as part of a classroom environment. All training is tailored to the specific requirements of the client.
The training philosophy is practical, pragmatic and workshop in nature. Training workshops cover the following :
Computer Systems Validation
21 CFR Part 11 Awareness
Training
21 CFR Part 11 Assessments
Systems Based Risk Assessment
Project Management
Project Recovery
Team building
Problem Definition and Resolution
Team Mentoring
Executive Mentoring
Individual Mentoring provides you with an opportunity to have an experienced Consultant oversee a project,
programme or an individuals progression over a defined period. This, very flexible, service is provided primarily
off site and remotely.
Executive and Team Mentoring services are provided in conjunction with the Balestra Group
email today for any mentoring services : jmiller@balestragroup.com.or visit http://balestragroup.com